December 2006
2006 was a busy year here at Analog Bros. Two big items are that we've rewritten our web site and put together a new shop to better serve our clients. The web site has been in the works for quite a long time and we finally were able to launch a cut down version of it at our new host:
www.catapultweb.com
There will be much more to come, including sections on recording gear, the Hammond organ and technical articles on safety, loudness and other topics.
---
The addition of our new shop provides us with a total of 5 fully equipped workstations. This way we can simultaneously be doing repairs, building gear and working on our ever continuing R&D projects.
We'll write a feature on some of the great HP test gear we use sometime soon.
---
One of the more interesting jobs we worked on this year was the new Dr. Lonnie Smith release "Jungle Soul" on Palmetto Records.
http://www.palmetto-records.net/artist.php?id=54&album=126
It's always a pleasure and a thrill to work with the good Dr.! We did extensive rework to his B3 and interfaced it to our heavily modified Leslie. Playing by a true master like Dr. Lonnie really brings out the best in any equipment!
Being in the control room while Dr. Lonnie and the band played live was definitely a high point of '06.
Dr. Lonnie Smith at the wheel of his Hammond Organ, at Maggie's Farm Studio in Bucks County, PA
---
We've had a great time rebuilding a classic Neotek S3-C console with Bill and Jay at Catapult Studio. This great desk should be online making music early in '07. Go Analog!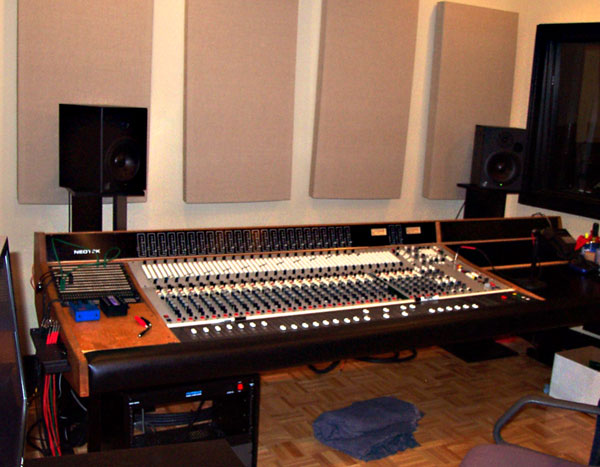 The Neotek S3-C console at Catapult Studios, currently being rebuilt top-to-bottom by Analog Bros.
---
Late last summer, a series of hurricanes hit the U.S. gulf coast, causing widespread damage and loss of life. Our friends at Lava Cable decided to do something to help, and organized a raffle to benefit the Red Cross relief efforts. We contributed several lots of NOS tubes and a special "grand prize". This was a conversion of a Fender Bassman to Analog Bros Model 32 specification. The lucky winner was Mr Norbert Galo of France. We spent quite a bit of time working to make this the best conversion we've ever done. Look
here
to see the entire process.